The 2021 Subaru Love Promise Community Commitment Award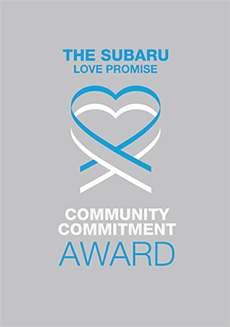 We've been nationally recognized for our dedication to our community and the Subaru Love Promise.
We're honored to receive the 2021 Subaru Love Promise Community Commitment Award. This award nationally recognizes Subaru retailers who are making the world a better place while demonstrating an outstanding commitment to supporting passions and causes in local communities. These efforts are focused in important areas such as the environment, community, health, education, and pets.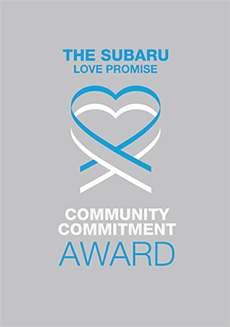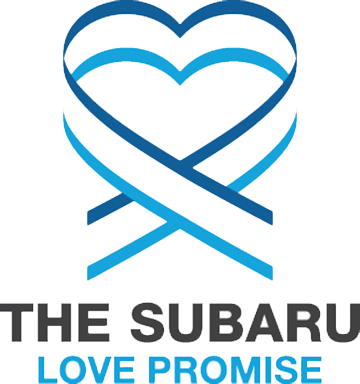 What is the Subaru Love Promise?
Subaru and our retailers believe in making the world a better place and the Subaru Love Promise is our vision of respecting all people. This is our commitment to show love and respect to our customers and to work to make a positive impact in the world.
How is Donaldsons Subaru dedicated locally to the Love Promise?
Our Love Promise can be seen in various partnerships with local charities and non-profits. We're grateful for the opportunity, not only to be a part of our community, but to serve it as well.
Babylon Junior Senior school
North shore little league , Boy scouts of america
Love Promise Stories from Donaldsons Subaru
Subaru and Donaldsons Subaru believe in making a positive impact on the communities in which we live and work. We uphold that belief through our Love Promise Community Commitment. Every month, we select inspiring stories from customers and partners from around our area who strive to support our collective commitment and feature them here
medford elementary school, loves to learn ! - Steven F
Dear Steve Fulco, Please see the attached photo. It includes five of the six classroom teachers and myself with the Adopt a Classroom bus. The teachers are thrilled to have received the $500 for their students' needs and were not expecting this windfall! The donation went to the building's special education teachers; a new program for the Medford Elementary School. Many of the teachers are new to education and this is certainly going to assist them in their ability to provide their students with new materials. Your generosity is greatly appreciated!
---
Donaldsons supports Medford Elementary school ! - Mary Y
Just in time for the annual back to school rush, Donaldsons Subaru has once again come through for their local students. During the Subaru "Loves learning" initiative Donaldsons has donated over $3000 worth of much needed school supplies to Medford Elementary school located in Patchogue NY, just a few miles from the dealership. During this program period the dealership had a display set up in the showroom with a huge cardboard bus for customers and staff to write messages of encouragement to the wonderful teachers and Staff at Medford Elementary school to stick on the bus. The messages will be sent to the teachers and staff when the school year kicks off in September. Steven Fulco, general Manager at Donaldsons, says he understands that these school have tight budgets and every penny helps in getting these students the best education !
---
Donaldsons Subaru rescues once again! - Theresa T
Donaldsons Subaru has once again rescued homeless pets, for over 6 years Donaldsons has been hosting their semi annual free pet adoption day. Twice per year Donaldsons invites the west Hampton chapter of Bideawee to their showroom in Sayville NY, the bideawee mobile adoption van arrives with many dogs and cats needing forever homes. The event is a free adoption day, any family who adopts a pet will have all adoption fees paid for by Donaldsons in addition total pet care of Holbrook gives each family a free goodie bag starter kit to get them started with their new family member. The Girl Scouts of America also attend to help out , this year they hand made dog toys to give to each adopted pet. As always we had a packed house with great attendance said Steven Fulco G.M. of sales operations of Donaldsons. This year they were able to get 4 puppies, 1 adult dog and 2 kittens into forever homes.
---
Donaldsons Shares the Love for a 5th year! - Rachel S
Our hospital has been genuinely touched by the outpouring of support from our community over the past year and we are forever grateful for each and every generous gift made to our hospital. While we have gained new donors, we must reserve a special place in our hearts for our friends and benefactors who, not only stood with us through the pandemic, but were also there for us long before. One of those wonderful supporters are our friends at Donaldsons Subaru, who for the 5th year in a row, have designated Long Island Community Hospital as the local charity for Subaru's National Share the Love Event. We were honored to be presented with a check for $33,150 from David Donaldson and Bill Donaldson, whose total contribution over the past five years has now surpassed $179,000. We are incredibly grateful to the Donaldsons Team for their support through this wonderful program, as well as for their continuous generosity in the support of our signature fundraising events as a Foundation Partner.
---
Donaldsons comes through again! - Pat L L
We recently picked up my 4th Subaru from Donaldsons and my salesman zaak fox, we love zaak! We were returning our leased Forester and getting a new 2021 touring model. With all the information and lease return stuff being passed back and forth, I left my extra keys to the new forester on Zaak's desk. As soon as we walked into our house, zaak was calling offering to stop by after his shift and drop them off. I explained that was not necessary because I was coming back the next day to pick up a pet seat cover that we had ordered from the parts department, as luck would have it, the next day we were hit with a major snow storm that was going to be substantial. I am out shoveling snow the next day, somehow my key fell out of my pocket and we could not find it with the amount of snow on the ground and us tossing the snow all around it could have been tossed anywhere. I work at a local food pantry that does not close and had to get to work, I called Donaldsons and was greeted by Steve Fulco the general manager, he explained they were getting ready to close because of the snow storm but he would do all he could to help us. We hung up, not even 10 minutes later zaak calls us and says he will drop off my extra keys on his way home, we were blown away, the storm was bad but zaak came through, and he had our dogs seat cover from parts with him ! We found the lost key a few days later on the lawn after the snow had started to melt. Thank you to zaak , Steve and Donaldsons for being the best.
---
Blanket Donation for TSLI/HHB - Christine R
"Transitional Services of New York for Long Island, Inc. (TSLI) and Haven House/Bridges, Inc. (HHB) are charitable organizations that have provided housing and support services for over thirty years to people in need. Since its inception in 1977, TSLI, a Community Residence Program, has been helping the mentally ill gain their independence, enjoy caring guidance, and most importantly, achieve and maintain a sense of usefulness and personal dignity. TSLI's programs include Pathways, Special Employment Program (SEP) and Summit. Haven House/Bridges, Inc. (HHB) was formed in 1995 by the merger of two separate homeless housing programs; Haven House which was established by the Huntington Coalition for the Homeless and Bridges, which was initiated by Transitional Services of New York for Long Island, Inc. (TSLI).HHB's programs provide housing, training and guidance to homeless families, single mothers and their young children, as well as individuals and families affected by HIV/AIDS. HHB's programs include emergency housing shelters and The Village." We want to thank Donaldson's Subaru for choosing our agency to donate 80 indoor/outdoor fleece blankets to our residents. Our agency and residents appreciate all donations that come our way. Thank you.
---
Donaldsons feeds the Hungry for Thanksgiving !!! - mary y
Donaldsons Subaru has partnered with Long Island cares (Harry Chapin food bank) once again for a pre-thanksgiving food drive to feed hungry families on Long Island. The initiative started on November 1st and runs until November 22nd, the outpouring of love and Donations from the local community has been amazing said Steven Fulco G.M of sales operations. We had a huge banner made for outside announcing that Donaldsons was a key drop off point for this drive and people have been randomly stopping in just to drop off bags of nonperishable food items. This food bank feeds over 283k long islanders every year! Donations are desperately needed for the thanksgiving time of year. The end result will be 2 Subaru Ascents filled with the donated food and driven to the food bank and dropped off 4 days before thanksgiving for processing. This event is very near and dear to the Donaldsons family of employees as we all live and work locally, Donaldsons has been selling cars on Long Island since 1955.
---
Donaldsons loves pets and Bideawee , again ! - Amy B B
For the 7th year in a row Donaldsons Subaru has once again supported the Westhampton Bideawee, with donations of blankets, leashes, and much needed pet supplies. Donaldsons has been a strong supporter of Bideawee for many years and we love our partnership with Donaldsons Subaru said Amy B from Bideawee. The mobile adoption events have been on hold since the Covid-19 outbreak, Donaldsons used to hold 2 events per year with great results. The good news is adoptions are still being made , virtually, it's an entire new world!
---
Donaldsons "share's the love" again !! - mary y
Donaldsons Subaru has once again come through big for their charity of choice, Long Island community Hospital, during the Subaru "Share the Love" initiative. During the share the love period Donaldsons Subaru along with Subaru of America Donated $32,582.00 from every sale made at Donaldsons! Long Island community Hospital and Donaldsons have shared a great relationship for many years as co-partners on quite a few other fundraising events. Long Island community is only 5.2 miles from Donaldsons so we have the same vested interest in serving the local community said Steven Fulco G.M. of sales operations at Donaldsons . Donaldsons has raised and donated well over 100k for Long Island community Hospital over the years.
---
Donaldsons loves pets !!!!!!!!!!!! - amy b
Once again Donaldsons Subaru has chosen the West Hampton Bideawee as their charity of choice for the annual "Subaru loves pets " drive. This is the third year in a row that the Donaldsons staff and their customers have donated Blankets, pet food, pet toys, treats, leashes, collars and anything else they could get their hands on to help out these homeless pets. This donation effort is very near and dear to the Donaldsons family of employees who all have pets and love to participate in giving back. Donaldsons Subaru also has a long running and valuable history of holding free adoption events twice per year at the dealership for the Bideawee, local families get to adopt a homeless pet and Donaldsons pays all the adoption fee's. Donaldsons is very proud of their relationship with Bideawee and loves to support the local homeless animals.
---