The 2021 Subaru Love Promise Community Commitment Award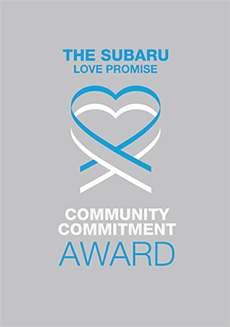 We've been nationally recognized for our dedication to our community and the Subaru Love Promise.
We're honored to receive the 2021 Subaru Love Promise Community Commitment Award. This award nationally recognizes Subaru retailers who are making the world a better place while demonstrating an outstanding commitment to supporting passions and causes in local communities. These efforts are focused in important areas such as the environment, community, health, education, and pets.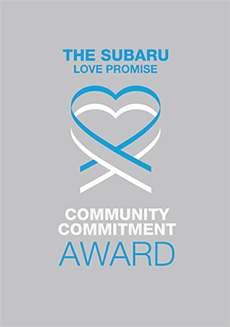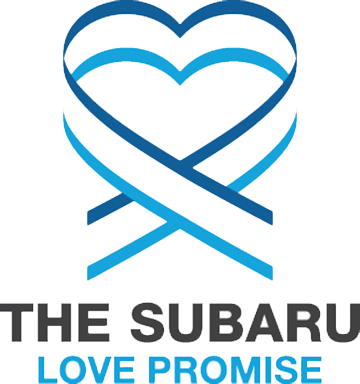 What is the Subaru Love Promise?
Subaru and our retailers believe in making the world a better place and the Subaru Love Promise is our vision of respecting all people. This is our commitment to show love and respect to our customers and to work to make a positive impact in the world.
How is Donaldsons Subaru dedicated locally to the Love Promise?
Our Love Promise can be seen in various partnerships with local charities and non-profits. We're grateful for the opportunity, not only to be a part of our community, but to serve it as well.
Babylon Junior Senior school
North shore little league , Boy scouts of america
Love Promise Stories from Donaldsons Subaru
Subaru and Donaldsons Subaru believe in making a positive impact on the communities in which we live and work. We uphold that belief through our Love Promise Community Commitment. Every month, we select inspiring stories from customers and partners from around our area who strive to support our collective commitment and feature them here
Donaldsons comes through again! - Pat L L
We recently picked up my 4th Subaru from Donaldsons and my salesman zaak fox, we love zaak! We were returning our leased Forester and getting a new 2021 touring model. With all the information and lease return stuff being passed back and forth, I left my extra keys to the new forester on Zaak's desk. As soon as we walked into our house, zaak was calling offering to stop by after his shift and drop them off. I explained that was not necessary because I was coming back the next day to pick up a pet seat cover that we had ordered from the parts department, as luck would have it, the next day we were hit with a major snow storm that was going to be substantial. I am out shoveling snow the next day, somehow my key fell out of my pocket and we could not find it with the amount of snow on the ground and us tossing the snow all around it could have been tossed anywhere. I work at a local food pantry that does not close and had to get to work, I called Donaldsons and was greeted by Steve Fulco the general manager, he explained they were getting ready to close because of the snow storm but he would do all he could to help us. We hung up, not even 10 minutes later zaak calls us and says he will drop off my extra keys on his way home, we were blown away, the storm was bad but zaak came through, and he had our dogs seat cover from parts with him ! We found the lost key a few days later on the lawn after the snow had started to melt. Thank you to zaak , Steve and Donaldsons for being the best.
---
Blanket Donation for TSLI/HHB - Christine R
"Transitional Services of New York for Long Island, Inc. (TSLI) and Haven House/Bridges, Inc. (HHB) are charitable organizations that have provided housing and support services for over thirty years to people in need. Since its inception in 1977, TSLI, a Community Residence Program, has been helping the mentally ill gain their independence, enjoy caring guidance, and most importantly, achieve and maintain a sense of usefulness and personal dignity. TSLI's programs include Pathways, Special Employment Program (SEP) and Summit. Haven House/Bridges, Inc. (HHB) was formed in 1995 by the merger of two separate homeless housing programs; Haven House which was established by the Huntington Coalition for the Homeless and Bridges, which was initiated by Transitional Services of New York for Long Island, Inc. (TSLI).HHB's programs provide housing, training and guidance to homeless families, single mothers and their young children, as well as individuals and families affected by HIV/AIDS. HHB's programs include emergency housing shelters and The Village." We want to thank Donaldson's Subaru for choosing our agency to donate 80 indoor/outdoor fleece blankets to our residents. Our agency and residents appreciate all donations that come our way. Thank you.
---
Donaldsons feeds the Hungry for Thanksgiving !!! - mary y
Donaldsons Subaru has partnered with Long Island cares (Harry Chapin food bank) once again for a pre-thanksgiving food drive to feed hungry families on Long Island. The initiative started on November 1st and runs until November 22nd, the outpouring of love and Donations from the local community has been amazing said Steven Fulco G.M of sales operations. We had a huge banner made for outside announcing that Donaldsons was a key drop off point for this drive and people have been randomly stopping in just to drop off bags of nonperishable food items. This food bank feeds over 283k long islanders every year! Donations are desperately needed for the thanksgiving time of year. The end result will be 2 Subaru Ascents filled with the donated food and driven to the food bank and dropped off 4 days before thanksgiving for processing. This event is very near and dear to the Donaldsons family of employees as we all live and work locally, Donaldsons has been selling cars on Long Island since 1955.
---
Donaldsons loves pets and Bideawee , again ! - Amy B B
For the 7th year in a row Donaldsons Subaru has once again supported the Westhampton Bideawee, with donations of blankets, leashes, and much needed pet supplies. Donaldsons has been a strong supporter of Bideawee for many years and we love our partnership with Donaldsons Subaru said Amy B from Bideawee. The mobile adoption events have been on hold since the Covid-19 outbreak, Donaldsons used to hold 2 events per year with great results. The good news is adoptions are still being made , virtually, it's an entire new world!
---
Donaldsons "share's the love" again !! - mary y
Donaldsons Subaru has once again come through big for their charity of choice, Long Island community Hospital, during the Subaru "Share the Love" initiative. During the share the love period Donaldsons Subaru along with Subaru of America Donated $32,582.00 from every sale made at Donaldsons! Long Island community Hospital and Donaldsons have shared a great relationship for many years as co-partners on quite a few other fundraising events. Long Island community is only 5.2 miles from Donaldsons so we have the same vested interest in serving the local community said Steven Fulco G.M. of sales operations at Donaldsons . Donaldsons has raised and donated well over 100k for Long Island community Hospital over the years.
---
Donaldsons loves pets !!!!!!!!!!!! - amy b
Once again Donaldsons Subaru has chosen the West Hampton Bideawee as their charity of choice for the annual "Subaru loves pets " drive. This is the third year in a row that the Donaldsons staff and their customers have donated Blankets, pet food, pet toys, treats, leashes, collars and anything else they could get their hands on to help out these homeless pets. This donation effort is very near and dear to the Donaldsons family of employees who all have pets and love to participate in giving back. Donaldsons Subaru also has a long running and valuable history of holding free adoption events twice per year at the dealership for the Bideawee, local families get to adopt a homeless pet and Donaldsons pays all the adoption fee's. Donaldsons is very proud of their relationship with Bideawee and loves to support the local homeless animals.
---
DONALDSONS SUBARU SUPPORTS KIDS RUN LONG ISLAND ! - m y
We would like to thank Donaldsons Subaru for supporting our "kids run long island " event, we are, Kids Run Long Island a 501 (c) (3) non-profit with a mission to inspire kids to be the best they can be through healthy living, fitness & mindfulness. We believe that every child who exercises both body and mind on a daily basis will develop a healthy whole person- one that believes in self-respect, responsibility and honesty. And that is the key to the strength and stability of our future generations. That is our mission. With Donaldsons generous donations we are able to help our local children grow be healthy and be the best they can be, Thank you Donaldsons Subaru for all you do !
---
Donaldsons brings warmth - Carol P
Donaldsons Subaru joined the Leukemia and Lymphoma Society to deliver blankets, craft kits, and messages of hope from their customers to cancer patients being treated at Long Island Community Hospital. Hospital leaders came by to accept the donations, bursting with excitement to share them with their patients. The representative's from Donaldsons Subaru shared that they were honored to support the patients being treated there.
---
Donaldsons Subaru's Share the Love 2019 - Erin M
This year will be the third year that Donaldsons Subaru and Long Island Community Hospital formerly Brookhaven Memorial Hospital have paired together for Share the Love. In 2017, Donaldsons Subaru and Subaru donated over $41,000 dollars to the local hospital. Long Island Community Hospital is a full service, 306-bed acute care, voluntary, not for profit hospital located in Patchogue, NY just a few miles from Donaldsons Subaru. Richard Margulis has continued to mirror Donaldsons' and Subaru's efforts and support with our local communities. Their mission is to "Deliver accessible, high-quality health services in a focused, compassionate and teaching environment, while providing health advocacy for the community and people we serve.". Donaldsons Subaru has also used some of Subaru's other Community Initiatives to support Long Island Community Hospital with the Loves to Care Blankets and Children Fun Kits that have helped comfort so many of their patients and families. To date, our partnership has benefited our communities in ways that we can't even begin to count and we look forward to a continued reciprocal relationship with Long Island Community Hospital.
---
Brookhaven Hospital Delivery - Bridget M
Donaldson's Subaru joined the Leukemia and Lymphoma Society to deliver blankets, craft kits, tote bags and messages of hope from their customers to patients being treated at Long Island Community Hospital in Brookhaven. It was clear that day that this shiny new facility were old friends who look forward each year to seeing each other and bringing hope to those fighting cancer.
---
Donaldsons loves to care, again! - Tim D
For a third consecutive year Donaldson's Subaru has participated in the Subaru "loves to care" initiative. On June 20th, 2018, Donaldson's Subaru presented Brookhaven Memorial Hospital with a donation of over 60 blankets and over 20 children's activity kits for the Leukemia and Lymphoma society. As part of the Subaru "loves to care" event the blankets and kits will go with over 200 handwritten messages of hope from Donaldson employees and customers to cancer patients and their families to raise the spirits of these exceptional patients. Brookhaven Hospital has been treating local patients since 1956 and Donaldson's Subaru family is privileged to help! Attending the event were David Donaldson (Dealer Principal), Steven Fulco (G.M. Sales Operations), and Richard Margulis (President and CEO Brookhaven). Donaldson's Subaru and Brookhaven Hospital have teamed up for the last 3 years for many local initiatives including Subaru "Share the love " and "Subaru loves to care" raising thousands of dollars . The Donaldsons family believes in helping and giving back to our local community and Brookhaven has proved to be a perfect partner.
---
Doing Our Share - Erin M
Mr. & Mrs. N. came into Donaldsons Subaru last week just looking around and seeing if the Subaru Forester was going to be a good fit for them. They went on a test drive with Zaak and spent some time learning about all of the great safety features and advantages of owning a Subaru. During their time at the dealership, they noticed the green recycle boxes that were around for our Subaru Loves the Earth initiative. They were really impressed by this. They knew that Donaldsons Subaru gave back to the community but they were surprised to see a car dealership that was encouraging people to cut down on their carbon footprint. They also want people to bring in their recyclable items so they can be sent to TerraCycle Zero-Waste which then turns these items into usable items for the schools, parks and more. According to Zaak, Subaru and Subaru retailers nationwide are launching a partnership with TerraCycle® to collect waste like disposable cups and lids, snack wrappers, coffee, tea, and creamer cups and capsules, and turn them into useful items for our communities such as park benches, bike racks, and flower pots. So far, the Zero-Waste™ Box program has diverted more than 500,000 pounds of waste from landfills. That's about 150 Subaru Outback vehicles. After hearing all of this wonderful information, Mr. & Mrs. N. not only decided that the Forester was the perfect car for them but also that Donaldsons Subaru was a company they would be proud to do business with and stand behind their ideals as a company. Donaldsons Subaru and Zaak are happy to report that they picked up and drove off with their brand new 2018 Forester today!!
---
The Newest Member of the Family - Tony K
Sometimes you don't know your family is missing something until someone comes into your life that you can't imagine being without. That's what Davey has become for us. My husband and I don't remember how life was before him. He has added such joy and happiness to our lives. We can't begin to express how thankful we are to Donaldsons and Bideawee for filling that void in our family that we didn't even know existed. Nowadays, there isn't very much in life that you can get for free and especially not anything that is usually of any value. But in this case, Donaldsons has managed to do just that. By partnering with Bideawee of Westhampton, they have given us and many other families a great gift and our newest and cutest family member. We didn't have to purchase a vehicle, there were no crazy gimmicks we had to qualify for and we even received new pet supplies from the local pet store, Total Pet Care. The Donaldsons staff created such a great and upbeat atmosphere that made the day that much better. They were helping the Bideawee volunteers, making sure everyone was being taken care of and encouraging people to help out the Girl Scouts who were there as well. The last six months have gone by for us in a snap and I can't believe Davey will be with us for a year before you know it. I had to take this opportunity to thank Donaldsons for all that they did and continue to do for the community. It says a lot for them as a local company and as a part of Subaru. We are proud to call them our neighbors!
---
A father and son Subaru story - D C
David Crawford wanted his sons first new car experience to be a memorable one , just like his dad did for him. When David was a young man his dad asked the dealer to let him know when the car arrives from the factory so his son can watch it come off the truck , he never forgot that special experience of a young mans first new car that he shared with his dad. Fast forward 31 years later, David Crawford's son David was buying his first new car , a 2018 Subaru Crosstrek in silver that he had saved for. Mr Crawford had called Steven Fulco the G.M. at Donaldsons Subaru where his son David was buying the car and explained what he wanted to do for his son. Steven Fulco has been with the Subaru brand since 1990 and with Donaldsons Subaru since 1994 so he felt he could make some calls to see if he could help make this dream come true for his customer. Steven called his district manager Tricia Reisig who put him in touch with John O'Donnell from Diversified trucking , John and Steven spoke weekly as the factory order for Davids Crosstrek was going through the system and getting close to shipping. John O'Donnell was as excited and happy to help as Donaldsons was, the day before the car was loaded onto the truck John called Steven and told him to expect the car at Donaldsons Subaru Friday morning between 9 am and 10 am. Steven called Mr Crawford and told him when the car would arrive so his son could watch the car come off the truck, David and his son were at the dealership at 7:30 that morning waiting for the truck to pull up to Donaldsons Subaru. The surprise came when the truck pulled up and the driver ( Brian Farinha ) got out and walked over to Mr Crawford and his son and said "I am looking for David Crawford" " I have a delivery for you". The driver went over and above knowing it was a special family occasion, the father and son team watched and listened as Brian Farinha explained how he would get it off the truck , their was not a dry eye in the lot as the employees of Donaldsons all came out to watch as a young mans first new Subaru came off the truck. Mr Crawford had the same experience with his dad 31 years earlier and now it was him and his son enjoying this together. Everyone involved did an amazing job to get this done, Donaldsons Subaru set the wheels in motion, Diversified trucking was instrumental and Brain Farinha pulled it all together. On behalf of the Crawford family, a huge thank you to all involved to make this fathers dream a reality.
---
A Winning Combination! - Erin M
This year will be the second year that Donaldsons Subaru and Brookhaven Memorial Hospital have paired together for Share the Love. In 2016, Donaldsons Subaru and Subaru donated over $36,000 dollars to the local hospital. Brookhaven Memorial Hospital is a full service, 306 bed acute care, voluntary, not for profit hospital located in Patchogue, NY just a few miles from Donaldsons Subaru. Since the new CEO and President, Richard Margulis has taken over the reins, the hospital has been revitalized and their mission statement is one that mirrors Donaldsons' and Subaru's efforts and support with our local communities. Their mission is to "Deliver accessible, high-quality health services in a focused, compassionate and teaching environment, while providing health advocacy for the community and people we serve." With this likeminded goal, Brookhaven and Donaldsons Subaru can have a great impact on the community we serve and are a part of. Just this past year, Brookhaven built and opened a new state of the art Cardiac Care Center with the help of donations like ours. Before the Knapp Center opened, the residents of the South Shore of Long Island had to travel great distances and increased their risk of a treatable stroke or heart attack becoming a fatality because it wasn't tended to in time or diagnosed properly. The lives they have saved already is amazing and the effect this has on their families and the community is priceless. Donaldsons Subaru has also used some of Subaru's other Community Initiatives to support Brookhaven with the Loves to Care Blankets and Children Fun Kits that have helped comfort so many of their patients and families. To date, our partnership has benefitted our communities in ways that we can't even begin to count and we look forward to a continued reciprocal relationship with Brookhaven Memorial Hospital.
---
Troop 626 Spends the Day at Donaldsons Subaru - Laurie J
Girl Scout Troop 626 had a great day at Donaldsons Subaru selling our Girl Scout Cookies and Nut Assortments! We are the local troop to the dealership and thought it would be a great partnership. When we were able to join their Westhampton Bideawee Pet Adoption event, it coincided perfectly with our Save the Animals initiative for our girls and a new patch they were working on acquiring. In addition to selling over 50 boxes of cookies and 18 nut assortments, which raised over $500 for the Troop, we also had a donation jar that earned an additional $150. We were able to take this money and give it to the Westhampton Bideawee to use for food and supplies that they are always in need of. The girls were able to see firsthand how many animals are in need of adoption and all of the work it takes to make sure they go to a good home. There were so many volunteers from Donaldsons Subaru donating their time and resources and they do this event twice a year for the last 4 years. It truly was a heartwarming day. Steve Fulco, the General Sales Manager, makes sure the dealership stays engaged with the community and is always giving back. After this experience, Troop 626 will help Donaldsons Subaru with all of their future community ventures. They helped show our girls that businesses that give back to the community are the ones that people want to support and can make a big difference in everyday life.
---
Puppy Yoga Class - Nicole S
Donaldsons Subaru and Just Breathe Yoga had a very special event today at the Yoga studio. We had our first Puppy Yoga class with all of the adorable puppies from Westhampton Bideawee. Steven Fulco, General Sales Manager of Donaldsons and a longtime member of our studio, thought of and put together this great idea. Before their Semi-Annual Adoption Day, all of the puppies came in to do a special Yoga class with all of our members who wanted to join in. The smiles and love was overflowing for these precious pups! Not only did we all get a great workout, we were able to donate the proceeds from the class to Westhampton Bideawee to help even more of their animals- over $400! After all was said and done, they will be able to get some much needed supplies for all of their boarders. In addition, Steve and his wife Angela, donated their time recruiting people to attend so we could raise as much money as possible to help and helped promote our business and a great charity by putting it all over social media. What a great way to give back!! Thank you so much Steve!!
---
Archer- Our Newest Family Member! - Kimberly M
My boyfriend and I recently had the great pleasure of adopting an adorable little puppy named Archer. We heard about this great event being held at Donaldsons Subaru where they partner with Westhampton Bideawee and they pay for the adoption fees! Bideawee also takes care of the animal's first round of shots and has them spayed or neutered. Their generosity made it possible for my boyfriend and me to adopt Archer. Archer has added so much happiness to our lives that we don't know what we did before him!! That day at Donaldsons was just so happy and upbeat. All of their employees donated their time and energy helping with the setup and cleanup, talking to all the families who came and purchasing items from some of the local vendors who were there. I was told that they were able to adopt 6 out of 8 puppies that day. This cost them over $2000 in adoption fees, not to mention all of their time and effort. This was the first time I had ever been to Donaldsons Subaru and I must say, even though we didn't buy a car, we were treated like part of a family. I must say- they impressed me and made a lot of people happy that day!
---
How We Found Riley - Michelle D
On September 29, 2017, my family and I had the pleasure of attending Donaldsons Subaru's and Westhampton Bideawee's 9th Semi-Annual Free Adoption Day. My children have been asking for a puppy for some time now and I saw the event was coming up and decided this would be a great time to see if we could add a new member to the family. Donaldsons Subaru and Bideawee make adopting a pet easier for families who would love a pet but may struggle with the upfront costs and when you have two growing boys and your everyday expenses it can be a lot! At the event, Donaldsons had a collage posted with pictures of all of the families they have impacted over their last 8 events. They have helped 72 animals get adopted, paid over $21,600 in adoption fees, and provided the volunteers who help setup the events, coordinate with the local Girl & Boy Scout troops, purchase items from local vendors to donate to the people who attend, greet all of the people that come, and help with all of the adoption paperwork. They all work so hard and help make the day a great success. When we got the approvaI for Riley and I saw the look on my boys' faces, it made my whole day. It was day I will always remember and appreciate. In today's world, you don't come across many businesses that do things for the community that don't get them something back monetarily. This event is definitely the exception to that rule and Donaldsons Subaru made a loyal customer out of me and I don't even own a Subaru.
---
New Books for Everyone! - Erin M
Some days just make everything else in life worth it. Donaldsons Subaru was able to deliver 150 brand new books to Babylon Junior-Senior High School. Over a dozen employees from Donaldsons Subaru gave up some of their free time to help bring the books to the school, visit with the students and join the presentation.Of course we met with the Principal, Mr. Cirone and Assistant Principal, Jen Mangone, but for all of us, that wasn't the highlight of the day. We met Mary O'Hara, the school Librarian, and her excitement at seeing these new books arrive was fantastic. She explained to us how the budget had been cut and the books we were donating would be utilized in so many facets for the school. She told us our book donation amounted to us giving them a check for $3000. This is how much the books would have cost if they had to buy them! Mary said her biggest order this year was $300! Plus, with over 1900 students in the district, these new books would be utilized district wide. They will be used by the high school kids and by some of the younger grades. In addition, they will be used for a special program that they offer for children and their parents. This program allows Babylon's students who are studying to become teachers prepare and work with the children by reading to them and creating excitement about learning. 150 books and inspiration from our staff that can help a school, a community and their children better themselves. We are so happy to be a part of today.
---
Donaldsons Subaru staff loves to learn ! - s f
The sales staff at Donaldsons Subaru are excited to be part of the " Subaru loves to learn " initiative, We know the deepest learning happens when students have the tools they need to inspire new ways of thinking and seeing the world. Through the Subaru Loves Learning initiative this August, Donaldsons is supporting the American Association for the Advancement of Science (AAAS) by donating award-winning science books to K-12 students in our community. Donaldsons is excited because a great many of our Customers are teachers and love to see the community involvement from a local business like Donaldsons. Patrick Donaldson happens to be a teacher at the local school where the books are to be donated, so he is excited to see his family's business getting involved in education at the local level. The entire staff at Donaldsons has vowed to make this book drive a great success.
---
Donaldsons Subaru Donates! - Alexa L
Recently, Donaldsons Subaru joined the Leukemia and Lymphoma Society to deliver blankets, craft kits, and messages of hope from their customers to patients at Brookhaven Hospital for the second year in a row. David Donaldson, Steven Fulco, Tricia Reisig represented Donaldsons Subaru and were fortunate to meet with the oncology staff from Brookhaven Hospital. It was clear from their interactions that the dealership felt a special connection to this specific hospital. They received around 100 messages of hope and came across many connections to blood cancer along the way. The nursing staff shared how the patients at Brookhaven would be extremely grateful and truly benefit from the generous donation of blankets which will keep them warm during their treatments. Inspired by Subaru Loves to Care, Ujjayi Studios was kind enough to fundraise for the campaign, donating about $200 to LLS in an effort to "pay it forward"! David Donaldson shared how the customers and staff of the dealership greatly enjoyed filling out the messages of hope for patients. It was a wonderful and fulfilling experience.
---
Donaldsons Subaru loves to care! - s f
Donaldsons Subaru " loves to care " as part of the Subaru loves to care event Donaldsons Subaru donated over 60 blankets and over 20 children's activity kits to the Leukemia and Lymphoma society . The blankets and kits will go to cancer patients and their families at Brook-haven Hospital along with hand written messages of hope to raise spirits of these very special patients. Attending the event were David Donaldson( dealer principle ) Steven Fulco ( G.M. sales operations ) Richard Margulis ( president and CEO Brook haven ) Tricia Reisig ( district sales manager Subaru dist corp ) also in attendance were staff from Brook-haven, Donaldsons and the leukemia and Lymphoma society. This is the second year in a row that Donaldsons Subaru has supported this event and will continue to support Brook-Haven Hospital helping local citizens.
---
Donaldsons Subaru sponsors Yoga class for cancer - jude l
Donaldsons Subaru along with Just Breathe Yoga in Sayville NY have teamed up to benefit the "Subaru loves to care " initiative. Just Breathe Yoga held a donation based hot Yoga class with all proceeds going to the Leukemia & lymphoma society. The class was led by Jude Levy of Just Breathe Yoga, the studio was filled with Yogi's stretching for a cause . The Yoga students made a voluntary donation upon arrival , at the end of the class Steven Fulco G.M. of sales from Donaldsons Subaru, who sponsored the class spoke to the students about the Leukemia & lymphoma society and Donaldsons' role in the "Loves to care" program. The end of the class had a great surprise for the students who attended, Donaldsons Subaru donated and raffled off a beautiful manduka Yoga mat to one lucky student and the rest of the students received a manduka towel compliments of Donaldson's Subaru. The money raised will be presented to these special cancer patients along with Blankets and messages of hope filled out by the students of just Breathe Yoga to the Leukemia & lymphoma society on July 13th, when Donaldsons Subaru goes to Brook Haven Hospital to meet with the Leukemia & lymphoma patients for the 'Subaru loves to care" event.
---
Donaldsons Support for Bideawee's Homeless Pets! - Amy B
Donaldsons Subaru has been an amazing partner to Bideawee since 2014! For the past three years, Donaldsons has hosted 7 adoption events for Bideawee at their dealership with another scheduled for this September 2017. Those events have resulted in 22 adoptions! Because of Donaldsons support, Bideawee's homeless pets have found loving homes with families across Long Island. The dealership even donated to Bideawee, covering the adoption fees for all of the 22 animals! The Donaldson staff, especially GM Steve Fulco, go out of their way to put together amazing adoption events, promoting Bideawee through press, PSAs and social media. In addition to hosting adoption events, in 2015, Donaldsons choose Bideawee to be their community charity to benefit from Subaru's annual Share the Love Campaign. This campaign generated $5,698 for Bideawee! That donation allowed Bideawee to continue to grow our life-saving programs that help pets go from homeless to their forever families. Bideawee is extremely grateful to be partners with such an exceptional company! Their dedication to their community and charity partners is something you don't find at many companies. Bideawee is excited to partner with Donaldsons for many years to come!
---
Donaldsons "Share the Love" Check Presentation - s o
Donaldsons Subaru was very proud to host the Subaru "Share the Love" check presentation. Donaldsons Subaru was able to present a check for $36,777.00 to The Knapp Cardiac Care Center in Brook-haven memorial Hospital. The 3 month-long initiative had a generous donation attached to every Subaru sale during the 3 months. In attendance were John, Bill and David Donaldson, Steven Fulco G.M. Sales Operations, Barron Butler Executive Vice President of Subaru Distributors Corp, Tricia Reisig Regional Manager of Subaru Distributors Corp. The check was presented to Mr. Richard Margulis, President and Chief Executive Officer at Brook-Haven, and his staff. The event was covered by local media. "This type of local grass roots fundraising is exactly what Donaldsons Subaru is all about," explained David Donaldson. The entire sales staff did an amazing job at selling Subarus to raise this amount of money for Brook-Haven. Donaldsons is proud to partner with Brook-Haven Hospital.
---
Donaldsons Subaru shuttle of love - pat l
I just wanted to take a moment to say how happy we are to have bought our 2016 Forester at Donaldsons, We live 2 miles away from Donaldsons and always use the service department, the shuttle service has become a life saver for us. Donaldsons service will shuttle us home when we drop off our car for service, this is a big help because we care for my husbands mom who is house bound, the shuttle allows us to have one of us stay with mom while the other drops off the car for service. With two Subarus in the family, this is very helpful, on a day when the shuttle was out our sales person Shane took us home. Thank you Donaldsons for making our life just a tad easier . Pat Longobardo
---
Tim's love promise - e m
Timothy H. helped make another Love promise a reality by sending a message of Love and Support to all of those who are fighting Lymphoma and Leukemia when he picked up his 2016 Impreza. He resonated a familiar message- Stay Strong. Two words, simple in nature but they speak volumes to those who battle these diseases everyday and their families who need all of the support they can get. Donaldsons Subaru salutes Tim and his simple message and appreciates his support in Subaru's Love Promise mission.
---
Donaldsons Subaru sharing the love in Aruba - erin m
Steven Fulco has been with the Subaru brand since 1990, he has been with Donaldsons Subaru since 1994 currently as the G.M. of sales operations has been going to Aruba with his wife since 1991. Steven and his wife Angela bring a donation on behalf of Donaldsons Subaru to the Casa Cuna children's orphanage every year when visiting Aruba. Casa Cuna is a special place for children ages 1 to 9 years old who are in need of a family atmosphere to live, the home provides support, love, brothers and sisters and a safe place to call home so they can thrive and experience a family dynamic. Donaldsons Subaru and Steve believe in sharing the love whenever possible, the donation they make comes from the Donaldsons Subaru family in Sayville ny.
---
A Year of Firsts - Erin M
Jennifer and John Zider had a special connection from the moment they met. They shared the first letter of the their first name and that was where it all started. This past November they experienced another first - their wedding day. A day that will live brightly in their minds for many years to come. They also moved into their first place together and now they have accomplished one more first - their first car together. Jennifer and John just bought their first Subaru Forester - hopefully the first of many. We wish Jennifer and John the best of luck in their life together and many more happy firsts for them to experience with their new Subaru Forester!
---
Donaldsons cuddle dispatch rides again !! - Just B
Once again Donaldsons Subaru and Bideawee have teamed up for the 3rd annual holiday Cuddle Dispatch ! This holiday season Donaldsons Subaru has donated 2 Subaru Forester vehicles for the day long event, each vehicle was loaded up with homeless pets and taken to local Businesses that signed up for " stress relieving cuddle time ". The Forester caravan visited Just Breathe Yoga in Sayville NY first, then went on to visit several other businesses and senior citizen homes covering Nassau and Suffolk counties., the joy on the faces at the senior homes was amazing to say the least, Donaldsons is proud to say because of this event we had all 4 of the homeless pets adopted that day !!!
---
Brookhaven Hospital visits Donaldsons Subaru - S F
Donaldsons Subaru was proud to host Mr Richard T. Margulis President and Chief Executive Officer of Brookhaven Hospital in our Donaldsons Subaru showroom. Mr Margulis had requested to meet with the Subaru sales team in person to kick off the share the love event, Mr Margulis took the time to attend the weekly sales meeting before opening the showroom, he explained about the new $66,000,000 Knapp cardiac care center that Donaldsons and Subaru will be supporting during the share the love event. Mr Margulis also talked about all the great community work Brookhaven Hospital is doing in the town of Brookhaven to help the local people in and around the Hospital, with the help of Donaldsons and Subaru Brookhaven will be saving lives with the money raised through the share the love event.
---
Brookhaven Hospital cardiac care center opening - steven f
Just in time for Donaldsons Share the Love kick off in November, the staff at Donaldsons Subaru was invited to the ribbon cutting grand opening of Brookhaven hospital's new state of the art $60,000,000 Knapp Cardiac Care Center! This Ribbon cutting event was covered by all media agency's and in attendance were the first patients to be saved at the new center, as the patients spoke about the care they had received and how their lives were saved their was not a dry eye in the room. Donaldsons Subaru is proud to be a sponsor of Brookhaven and plans on doing great things during the Share the Love event.
---
Cub scouts and Bideawee at Donaldsons - J D
The Bohemia Chapter of the cub scouts of America would like to thank Donaldsons Subaru for hosting cub pack 438 at Donaldsons semi annual Bideawee free adoption event on October 25th. The cub scouts had a wonderful time selling popcorn tins and popcorn treats to all the people who came to the adoption event, all the money the cub scouts raised went directly to the scouts for future events. Donaldsons Subaru provided free food and drinks for everyone, 4 dogs and 1 cat were adopted that day! Cub scout pack 438 would like to thank Donaldsons subaru for hosting this great local event.
---
Donaldsons subaru and Autism speaks gala - Ed N
Donaldsons Subaru has once again gone over and above for Autism speaks. Donaldsons Subaru had chosen Autism Speaks as their charity of choice for their During the "Share the Love " event, Donaldsons has helped raise over $20,000.00 for Autism Speaks . Autism speaks held a grand gala dinner to thank all the people and companies who helped raise funds for these very special people effected with autism. Autism Speaks is proud to say that Donaldsons Subaru was one of the leading fund raisers and was recognized at the gala for really stepping up to help spread the word. Autism Speaks would like to thank Steven Fulco general sales manager, David Donaldson dealer principle, and all the staff at Donaldsons for a great event.
---
Love Promise in Breast Care - Brookhaven B
Donaldson Subaru recently partnered with Brookhaven Memorial Hospital Medical Center in providing compassion and support to our community. Our goal at Brookhaven Breast Health Services is not only to provide the highest quality care and advanced treatments to our Breast Cancer patients, but to do so while helping and providing assistance in whatever way we can. We are thankful at Brookhaven Breast Health Services to Donaldason Subaru for joining hands in making life a little bit more comfortable for our patients. Donaldson Subaru donated plush blankets so that our patients who are receiving life saving treatments, such as recuperating from surgery or undergoing chemotherapy infusions, can feel more at home, with their own soft, personal blanket. Every ounce of love and care goes a very long way in the fight against Breast Cancer. Thank you Donaldson Subaru for helping us take care of our community! Melissa D. Fana, MD, FACS Breast Surgical Oncologist Brookhaven Breast Health Services
---
Education for All - Lauren A
The very fact that Subaru gives back to teachers and classrooms goes to show what an incredible company Subaru is. My students have severe and multiple disabilities. Many of their families struggle to provide them with all of the financial services and devices that they need, and unfortunately, sometimes they are unable to provide school supplies. Each year I ensure that my students have everything that they need to make sure they have a successful school year under my supervision. Thank you of your consideration of my classroom for school supplies this year. It is truly a gift to learn about a company as great as yours--one truly built on American values.
---
Donaldson Subaru and Long Island LLS - Jamie G
The Long Island Chapter of The Leukemia & Lymphoma Society (LLS) has really enjoyed the partnership that has been formed between LLS & Subaru. Long Island LLS staff were thrilled to meet with David Donaldson of Donaldsons Subaru in Sayville, NY at Brookhaven Memorial Hospital Medical Center (BMHMC). Once there, we all met with Merilyn Konnerth, BMHMC's Breast Cancer Coalition Coordinator and Carolyn Villegas, BMHMC's Marketing Manager along with several other doctors and faculty of the hospital. We also had the pleasure of meeting Richard Margulis, the President and CEO of BMHMC. They were all so grateful for the generous donation of the blankets and care cards with messages of hope that were donated by Subaru. They shared their gratitude with the dealers, who were highly engaged. Donaldson's dealers are already very philanthropic as they often donate to Autism Speaks. The Long Island LLS staff have already been in contact with Merilyn and Carolyn to grow our relationship and get the hospital more involved with LLS. This new partnership is greatly thanks to Subaru and we are forever thankful. Additionally, we have already discussed coming into the Donaldson dealership to speak with the employees and share information about LLS and the Light The Night Walk. We look forward to the future with BMHMC and Subaru!
---
The stress buster "Cuddle Dispatch" - steven f
Donaldsons Subaru along with the west Hampton Bideawee have been partnering for over 2 years with adoption events in our showroom for homeless pets. The Cuddle Dispatch was a joint venture, Donaldsons Subaru sponsored the event by donating 2 Subaru Foresters for the day and 2 employees to drive them. The Foresters were loaded up with several homeless adoptable pets along with Donaldsons employees and Bideawee volunteers. Each Forester had several stops during the day to local businesses who for a small donation to Bideawee were treated to stress relieving "cuddle time" with the pets for their employees. The business employees were in shock to see the pets in their offices and the smiles were amazing. The Forester caravan also visited (free of a donation) two homes for adults with special needs and two schools for children with special needs. Visiting the homes and schools for the people with special needs was very touching, seeing the smiles on the faces of these special people was just overwhelming. The joy these little pets spread was just great. The event was covered by Fios news and the West Hampton press. We have a wonderful relationship with the West Hampton Bideawee and look forward to doing more events with them. Respectfully... Steven Fulco G.M. Donaldsons Subaru
---
Animals in our Community - Bideawee A
Donaldsons and Bideawee have a partnership that keeps growing! We hosted another adoption event this past weekend, April 19th, right here at our Dealership. Bideawee had about 8 dogs here available for adoption. We want to do whatever we can to help get these animals into their furever homes!
---
Long Island Cares, Happy Chapin Food Bank Holiday - Steve F
During the entire month of November Donaldsons worked with Long Island Cares, Harry Chapin Food Bank to collect food for the holiday season. We had two donation boxes, one in our Sales Showroom, and one is our Service Lounge. When the Food Bank came to pick up the boxes, both were full! This was our second year participating in the holiday food drive and I am positive we will continue to participate for years to come! At Donaldsons we try to do what we can to help give back to the community that has been a part of our family for 60 years! Thanks to our employees, customers, and family members we were able to help provide some extra food for the families in need during this past holiday season. We are very grateful that we are lucky enough to be in a position to be able to give back.
---
Fundraising Car Wash With Contractors for Kids - Brittany L
Donaldsons Subaru worked with Contractors for Kids to put together a successful car wash! Contractors for Kids was founded in 2005 by Kevin Harney and Alan Nahmias, principals of Stalco Construction. Kevin and Alan, long time philanthropists, saw the growing need for financial assistance in our communities, and knew that something more needed to be done. They formed a board of directors and thus Contractors for Kids was born. The board of directors, members, supporters and volunteers of CFK are all "Contractors for Kids"; we are all helping and building futures for children and families in need. We consist of doctors, lawyers, teachers, bankers, accountants, policemen, firemen, parents, grandparents, siblings, friends, plumbers, social workers, CEO's, CFO's, you name it, "We are all Contractors For Kids". Donaldsons Subaru is proud to be a partner with this organization and looks forward to many more events.
---
Donaldson Subaru donates vehicle raffled off at Sayville Summerfest - Brittany L
Donaldsons Subaru wanted to give back to the community where they have been located since 1986! Donaldsons Subaru has sponsored a local Minor League Baseball team since 2008. With that sponsorship, we provided them a BullPen Vehicle. This year Donaldsons replaced that vehicle with a new one. Instead of selling the original one, we donated it! Donaldsons Subaru donated their BullPen vehicle to the Sayville Chamber of commerce. Sayville Chamber then raffled off the vehicle. All raffle tickets were sold by the chamber for $5.00. All money collected goes towards the beautification of Main Street! Sayville has been great to us, we wanted to do something for them. The BullPen Vehicle was raffled in August, at Sayville Summerfest, and won by a member of our community!
---
Bideawee Animal Shelter & The Girls Scouts of America - A winning combo - Amy H
Part Of Our Love Promise! Donaldsons Subaru is full of animal lovers! Almost all of Donaldsons employees own a pet of their own! We held an adoption event in conjunction with one of our local animal shelters, Bideawee. We also invited the Girl Scouts of America down to join in on the fun. We had about 10 animals available for adoption and tons of cookies to be sold. The parking lot and showroom were packed with prospective adopters, bideawee animals, employees, cookie eaters, and volunteers. We ended up having 6 dogs adopted, 1 cat, and 50 boxes of cookies sold. One of our Subaru Sales Consultants took home a dog of his own, Curtis! Needless to say, it went off without a hitch!
---